order and chaos
Battles generally take place between Zael's party and a vicious group of enemies. And given that the usual haunts for this ragtag group include caves, dungeons, rotted old ships and the like, Zael and the others are always in formation and ready for action.

Just running in wildly among the enemy will force you to fight on their terms, however. Using Zael's Gathering ability, you can instead spurn confusion and disorder among the enemy ranks, bringing you total control over the battlefield.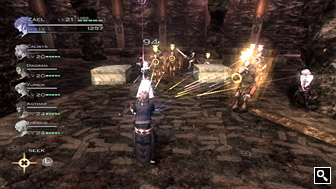 1. DISRUPT THE ENEMY AND TAKE CONTROL
The "pointer" line indicates whom the enemy is currently targeting. If you activate Gathering, all those pointers will immediately focus on Zael.